International Army Games begin; 32 countries compete
Comments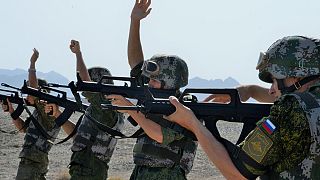 Russia's International Army Games kicked off with an opening ceremony held last Thursday and will continue until August 11. 
Thirty-two countries are said to be participating, with competitions taking place at Russia's training facilities, as well as at guest organisers' military bases abroad, including in Iran, China, and Armenia.
The military Olympics tradition, which was started by Russia's Ministry of Defence, is recent, only being on its fourth annual event. Armies compete in fields such as a tank biathlon, military medicine, falcon hunting, and aerial maneuvering.
"Each year we see more teams participating in the Games as well as the contests become more complicated. However, the only thing that remains unchanged - the spirit of courage, generosity, comradeship that prevails on the mock battlefields," Russian Defence Minister Sergei Shoigu said at the opening ceremony.
"I am positive that this competition...shall contribute to development of international military and technical cooperation and promotion of military service," Putin said in an address.