Investigators no closer to finding out what happened to Malaysia Airlines Flight MH3700
Comments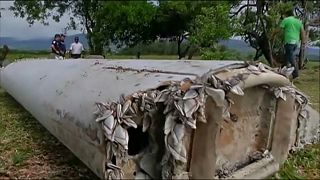 It's one of the world's greatest aviation mysteries - and, for now, what happened to Malaysia Airlines Flight MH 370 will remain just that.
More than four years after the Boeing 777 disappeared over the Indian Ocean, investigators are no nearer to finding out what went wrong.
A new report has found it was likely that the plane was deliberately taken off course but investigators have not been able to determine who was responsible.
And they say they won't be able to be sure until the wreckage is found.
Kok Soo Chon, head of the independent investigation team, said: "We cannot establish if the aircraft was flown by anyone other than the pilot. But we also cannot exclude the possibility that there was an unlawful interference by a third party."
The inability to locate the crash site fueled countless conspiracy theories, ranging from mechanical failure to a Russian plot, or even alien abduction.
The lack of answers is devastating for families.
Danica Weeks, wife of MH370 passenger Paul Weeks, said it was a slap in the face for the families.
"They failed again. It's been like this the whole time, they've really dealt with this badly and again, another show of 'we don't know what happened, we don't really, you know, we don't know and we don't care'.
''This is not just for us, it's for the aviation industry as a whole. It can't be left, MH370 cannot be left a mystery."
But a mystery it will remain.
Malaysia's new Prime Minister Mahathir Mohamad says the search will be resumed only if new evidence comes to light.