2018 Silk Way Rally: Yazeed Al Rajhi triumphs in cars class as Andrey Karginov wins trucks category
Comments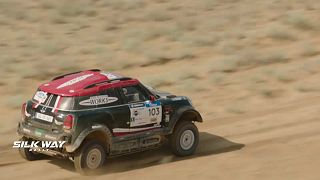 After a week's thrilling racing between between Astrakhan and Moscow amid tough competition, where cars and trucks had to face numerous difficulties, the 2018 Silk Way Rally came to an end. There is no doubt, that this has been one of the most complicated editions of this tournament so far.
YAZEED AL RAJHI WINS CARS CLASS
In the cars class, the final win was for Yazeed Al Rajhi and his co-driver Timo Gottschalk in their Mini John Cooper Works. Crowned on the podium set up in Red Square in Moscow, the Mini Cooper driver was at last able to savour his first win on this event.
"I've enjoyed a lot winning this third year, every year I have come because I enjoy this race and I like very much," said an overjoyed Yazeed Al Rajhi.
Second behind the Saudi driver, with a gap of more than 1h 08'', was Qatari Nasser Al-Attiyah and his co-driver Matthieu Baumel in their Toyota Hilux.
Nasser Al-Attiyah said this year's Silk Way Rally was a fantastic race. "I am happy to finish. We had a problem on all the previous stages so second place is a really good result. Thank you to the team, thank you to everybody who helped us. A really fantastic race, thanks to the organisation. The Silk Way Rally is one of the best races in the world," he said.
DREAM COME TRUE AS KARGINOV WINS TRUCKS CLASS
Nobody said it would be easy, and the images, show that indeed, the trucks suffered lots of adverstities this year. But in the end, and despite having had problems in some stages, Andrey Karginov, along with co-drivers Andrey Mokeev and Igor Leonov, in their Kamaz-Master, confounded many of the pundits and won the 2018 Silk Way Rally. In the trucks category, the fight for the win was tight, finishing just 18' ahead of the second Airat Mardeev.
Karginov said it was his dream to win the Silk Way trophy. "I was hoping to win. Every participant who comes here hopes for a good result. This is 10 years that I have been coming to the Silk Way Rally. This is the only race I haven't won before; I won Dakar in 2014, the Africa Eco Race in 2017 and now we have won the Silk Way Rally. We are very very happy," he said.
The Silk Way Rally will be back in 2019.