Battle continues on Day Two of Zagreb Judo Grand Prix
Comments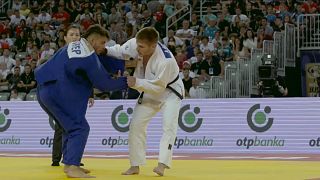 As battle continued on day two of Croatia's annual Judo Grand Prix at the Zagreb Arena, Kosovo's Akil Gjakova was head and shoulders above the competition and became our man of the day.
At the semi final stage he defeated world number two Rustam Orujov of Azerbaijan with an exquisite piece of footwork to earn a place in the final of the under 73 kilogram division.
There he faced Italy's Fabio Basile, the under 66 kilogram Olympic champion. In a nervy contest, Paris Grand Slam winner Gjakova became the first male judoka from Kosovo to win Grand Prix gold as he defeated Basile. Towards the end of the bout Gjakova capitalised on a weak attack from his opponent to score a waza ari with a great counter attack and held on for a win which will long be celebrated in his homeland.
It was his second World Judo tour gold of what is turning into a fantastic year for the Kosovar judoka and it showed just how strong his nation's judo team is becoming.
"I feel very good, when I think that there was a lot of good judokas and I'm very proud of myself - I worked very much and I came here I won so this was a very good day for me," said Akil Gjakova. "The atmosphere is very good in our team; we are all like a family, our coach is like our family. When we have problems we talk to each other, so I think it's easy for us," he added.
WOMAN OF THE DAY
Our woman of the day was happy to sign autographs for young judo fans after her win, but France's Marie Eve Gahie was all business in the final against Japan's Yoko Ono which was an epic encounter.
After over 3 minutes of Golden score Gahie struck, scoring a waza ari to win the contest and add another World Judo Tour gold medal at under 70 kilograms to her growing collection.
"It was very important for me, it's going to help me come back stronger, especially after what happened in the European Championships. So I'm going to keep to the strategy that my coaches and I have been working on, and it's certainly going to help me for the World Championships," said Marie Eve Gahie.
GERMANY'S RESSEL WINS UNDER 81 KG GOLD
The under 81 kilogram gold went to Germany as Dominic Ressel took his first World Judo Tour podium. In the final he used a clever strangulation technique against his opponent Matthias Casse of Belgium to get the win.
JAPAN'S NABEKURA CAUSES UPSET
Japan's Nami Nabekura caused an upset at under 63 kilograms as she defeated the Olympic champion Tina Trstenjak in the final, surprising the Slovenian with a fantastic counter attack to score ippon.
ISRAEL'S BUTBUL PRODUCES MOVE OF THE DAY
Israel's Tohar Butbul produced our move of the day as he swept past Slovenia's former Junior World Championships bronze medallist Martin Hojak for the under 73 kilogram bronze.
An incredible combination attack ending in an enormous osoto-gari earned him an emphatic victory as he took Israel's third medal of the Grand Prix so far.