world awaits longest lunar eclipse of 21st Century
Comments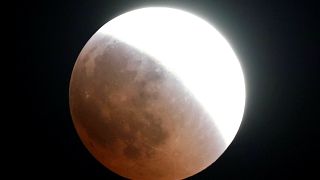 Stargazers across the world have sought a glimpse of a blood-red moon for the longest lunar eclipse of the 21st century.
The moon will be in the Earth's shadow for four hours and totally eclipsed for one hour and 43 minutes.
It's termed a blood moon as light from the sun passes through the earth's atmosphere on its way to the moon which turns it red in the same way the sun becomes red as its sets.
Lunar eclipses are less common than solar eclipses, with a maximum of three occurring in any given location per year,