US economy grows at fastest rate in four years
Comments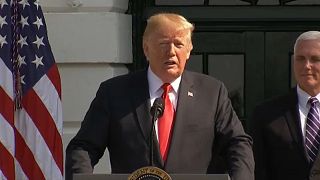 US President Donald Trump came good on his prediction earlier this week that data will show the US economy is in good shape.
Figures reveal the American economy grew at its fastest pace in nearly four years in the second quarter partly boosted by increased consumer spending.
"These numbers are very, very sustainable," he said. "This isn't a one time shot. I happen to think we're gonna do extraordinary well in our next quarter."
First quarter growth for 2018 was up 2.2 percent rising to 4.1 percent for the second quarter.
President Trump said the future for the economy was looking bright: "Billions of dollars are pouring into the United States coffers, billions of dollars. We are getting jobs, we are getting money coming in, we are respected. And eventually steel prices will really start to go down, because all of these news plants are going to be competing against each other. But we won't have foreign countries dumping - that is the word they use, dumping - steel all over the place and destroying our factories, destroying our plants, destroying our companies and destroying our jobs."
A few days ago President Trump narrowly avoided a transatlantic trade war by agreeing to work on eliminating steel tariffs with European Commission president Jean Claude Juncker.