Rescue team that saved Thai footballers helps survivors of Laos dam collapse
Comments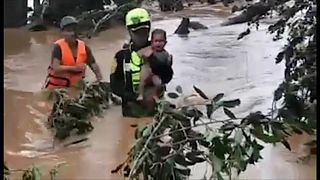 Thirteen people including an infant, a pregnant woman, and a dog have been rescued after being trapped for four days amidst the fatal Laos dam collapse in the Attapeu province. The joint rescue efforts included Lao and Thai teams--the same Thai rescue team, known as Hook 31, that saved 12 young footballers and their coach trapped in Tham Luang cave earlier this month.
"We found three families together, they ate bamboo shoots but there were not many and they were hungry," Thai rescuer Kengkard Bongkawong told AFP Friday.
Those rescued were hospitalised by Laotian soldiers.
The Armed Forces Development Command of Thailand has also offered relief supplies and food for the victims.
The search for over 100 others still missing continues.