Feeling good: positive stories from the week
Comments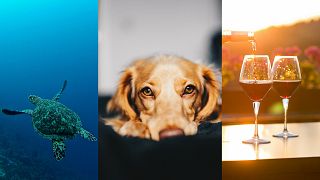 Studies have shown that increasing positive emotions has a powerful effect on our general wellbeing.
Having always a look on the bright side can change our perception and even our reasoning! But is it really that simple with news? We know it's not.
This is why we'd like to introduce you to our roundup of some of the brightest stories from this week.
We hope they'll cheer up your Friday!
Here's more proof that your dog really does love you
Most dog owners would do just about anything for their pups. And a new study says the feeling may be mutual.
Read more at Time
Italian bus company employees donate paid leave days to colleague with sick child
Employees of a bus company in Italy donated their paid leave days to a colleague so he could spend more time with his disabled child.
Read more at Euronews
Over 13,000 strangers have come together to save a French castle from destruction
The Chateau de la Mothe-Chandeniers has had many owners since its construction in the 13th century. But now more so than ever.
A crowdfunding campaign running on the French site Dartagnans has raised more than €1.1 million ($1.3 million) to date for the structure's preservation, with every contributor becoming a part owner of the historic home.
Read more at Curbed
Olive ridley sea turtles are being protected by the locals in Costa Rica
Every year, during the months of summer, hundred of Olive ridley sea turtles land on a Costa Rican beach. But unfortunately, poachers, fishing nets and pollution put these otherwise protected species in danger.
Click below to watch what the local community of Playa Ostional is doing to protect the sea turtles during their nesting season.
Read more at Living it by Euronews
World Cup Fan ID holders will get visa-free entry to Russia for rest of year
For those World Cup fans that want to visit Russia again, there's no time like this year: Fan ID holders will be granted visa-free entry into Russia until the end of this year.
Family members and friends of the cardholders travelling with them may also be eligible for free visas.
Read more at Euronews
UK heatwave: Vintage year for British wine as temperatures soar
Although winemakers were worried their entire crops would die when the cold weather came in February and March, they are now reporting a much better picture.
"Every single vineyard that could go right has gone right - and often we get the right weather, but not in the right order, but this year we have had the right weather in the right order," said Frazer Thompson, chief executive of Chapel Down vineyard in Kent.
Read more at Sky News