Syria: Mass funeral after deadliest onslaught in Sweida
Comments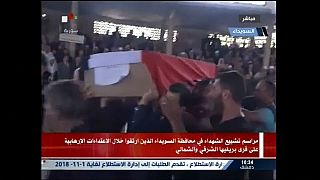 After a series of attacks and suicide bombings in Syria left more than 200 people dead, a mass funeral took place in Sweida on Thursday.
The so called Islamic State militants claim responsibility for the coordinated assaults in and around a government-held city and at several villages, in the group's deadliest onslaught in the country for years.
Sweida is in the south west of Syria, close to the Jordanian border.
It's also near one of the few remote pockets still held by so called Islamic State.
According to reports, the surprise attacks began simultaneously in the early hours of Wednesday morning when people were asleep.
It's believed that dozens of people were kidnapped.
Local media says government forces killed two suicide bombers before they detonated their vests.