Imran Khan leads Pakistan election as opponents cry foul
Comments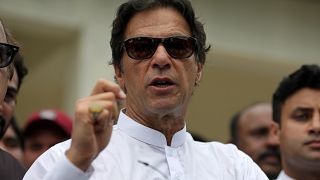 Cricket star turned politician Imran Khan has taken an early lead in Pakistan's election, but opponents have cried foul and say the vote was rigged.
Early unofficial results suggest his Pakistan Tehreek-i-Inshaf party (PTI) is in the lead, but it would need to form a coalition to secure a majority in parliament.
Authorities said on Thursday that the full results would be delayed due to technical failures in an electronic reporting system, and that tallying was now being conducted manually.
Chief Election Commissioner Sardar Mohammad Raza said: "These elections were 100 percent transparent and fair".
Khan's rival, the ousted Prime Minister Nawaz Sharif, called the early vote count an assault on democracy. While his brother and the leader of the PML-N party, Shehbaz Sharif, said the vote result was "based on massive rigging".
Why the vote matters
The election is considered Pakistan's second consecutive democratic transition in 71 years. The country has been ruled on and off by the military up until then.
The vote and campaigning have been marred by violence. On Wednesday, 31 people were killed near a polling station in Quetta, the capital of the southwestern province of Baluchistan. The so-called Islamic State claimed responsibility for the attack.
If he wins the vote, Khan has promised an "Islamic welfare state" and has cast his populist campaign as a battle to topple a political elite hindering development in the impoverished, mostly-Muslim nation of 208 million people.
But if his party is delayed in forming a government, it could further damage the country's economy which has a looming currency crisis and is expected to force the government to turn to the IMF for a bailout.