Greek fires: Search for missing moves to Athens morgue
Comments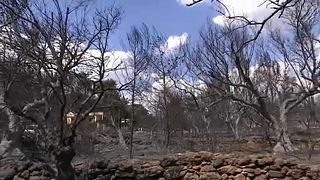 Rescuers continue to comb the shells of houses in the Greek coastal resort of Mati after devastating wild fires killed over eighty people.
Frantic relatives searching for loved ones missing in Greece's deadliest forest fire in decades headed to Athens' morgue
Many of the bodies were burnt beyond recognition.
''This is a very difficult procedure, more difficult than other destructions that we have faced in the past because here most of the bodies have been charred," said coroner, Nikos Kalogrias. "In most cases they are completely charred and this makes the identification really difficult."
Many residents are angry that the authorities did not order anyone out of the town that turned into a death trap on Monday evening.
''We were never warned that the fire was near us, we actually saw the fire when it was 300 metres awa," explained one survivor. "No-one told us that the fire jumped over the main road. If they had told us we would have at least five minutes to flee. But no-one told us anything. In previous fires there were police cars and firemen guiding us, telling us to evacuate. This time the only fire department vehicle we saw was when we were almost at the sea.''
The Greek government now says it has "serious indications" that arson caused the wildfires.
Euronews correspondent Fay Doulgkeri says that according to the coroner the victims were mostly burnt or drowned.
The procedure of identification through matching DNA will last two days for the bodies that have already been found.
The relatives that arrive at the morgue are completely devasted. Most of them have one main complaint - there were no officials there at the critical point to guide them or their loved ones to safety.