EC Bank will end its €2.6 trillion stimulus programme
Comments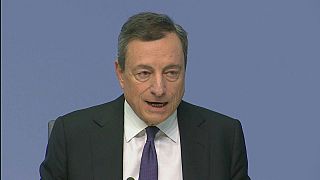 The European Central Bank reaffirmed it will end its €2.6 trillion stimulus programme this year.
It says the risks from an unpredictable global trade conflict doesn't warrant any deviation from its plan.
The ECB President, Mario Draghi says it's too early to assess the deal between Trump and Juncker. "If one can say something general, it's a good sign, it's a good sign in a sense because it shows that there is a willingness to discuss trade issues in a multi-lateral framework again but it would be difficult for us to go beyond that because we really don't know the substance of it."
But he did point to some signs of weakness that have started to emerge in the bloc's economy as exports have lost some momentum.
And he added, a global trade war would change the picture altogether if it snowballed.