Trumps imported car tariffs are under fire
Comments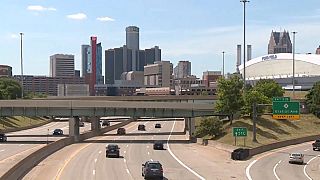 U.S. President Donald Trump's administration has come under fire for considering tariffs of up to 25% on imported cars and parts.
This would have a huge impact not only on European car makers, but also on national economic outputs of the automotive countries, like Germany.
Eric Schweitzer, President of the German Chamber of Commerce (DIHK) says,
"For Germany it would mean, for example, if 20 percent of tariffs are taken, the numbers will vary so between 20 and 25 percent, which means the economic damage to Germany would amount to about 6 billion euros."
According to the Peterson Institute for International Economics, the price of a new car could jump between just over a 1,000 to 6,000 euros for top-selling models.
Michelle Krebs, is the Executive Analyst from Auto Trader.com and she says, "You'd have to cut production at your factories. You have to lay off workers where they're assembled. The supplier has to lay off people. The dealers have to lay off people because there just isn't the business there."
Hundreds of workers employed by foreign auto-makers rallied on Capitol Hill, urging the administration to drop the plans they say could threaten their jobs.
Rick Johnson, Editor at Automotive News says, "This is sort of like exacerbating the push or accelerating the push of the industry center from the United States to China. China will become even more important than it is now, if this thing goes through."
A report by the Peterson Institute for International Economics estimates tariffs would kill around 200,000 (195,000) U.S. jobs over a one-to-three-year period.
If other countries retaliate with their own tariffs, the job losses could balloon to over 600,000 (624,000).