Explosion outside US embassy in Beijing
Comments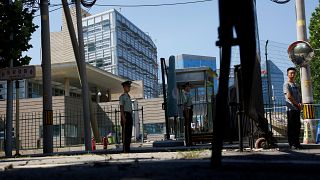 An explosion has been set off outside the US Embassy in Beijing.
The embassy said in a statement that a lone assailant had detonated a bomb at about 1pm local time, but police described the weapon as a "firework device".
Beijing police said the suspect, a 26-year-old man from China's Inner Mongolia region, had injured his hand and been taken to hospital but no one else is believed to have been injured.
Police did not provide a motive.
The US embassy said the explosion happened on the street outside southeast corner of the embassy compound.
Witnesses described hearing a bang and feeling tremors.
"I'd just arrived ... and then heard a loud explosion about 100 meters away," a 19-year-old high school student called Li told Reuters.
"I thought first there was a big car crash," added 58-year-old Li Shaohui.
The embassy resumed normal operations less than an hour after the incident, their spokesperson confirmed.