British court forces woman to remain married until 2020
Comments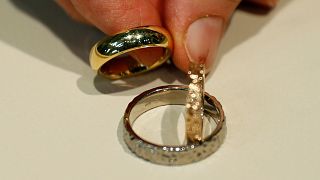 A British wife must remain married to her husband until 2020 after judges ruled that she needed to prove he had behaved "unreasonably".
Tini Owens, 68, says she no longer loves her husband Hugh and wishes to divorce. However, judges in the UK's highest court ruled that she cannot do so until the couple have spent at least five years living apart. The couple have been married for 40 years.
Judges at the Supreme Court refused to overturn an earlier verdict that Mrs Owens could only end the marriage immediately if her husband had been unfaithful or unreasonable, suggestions which Mr Owens denied.
The judges said it would be up to parliament to decide if the law should be changed.
Campaign groups, supported by some family lawyers, want to introduce a "no fault divorce" that can be enacted immediately without the need for the parties apportion blame over the end of the marriage.
"This is an extremely unfair situation," said Alex Carruthers, Partner at Hughes Fowler Carruthers. "The judges were constrained by laws made almost 50 years ago which are no longer fit for purpose. The clamour in the legal profession for reform of our arcane divorce laws and the introduction of no-fault divorces is now deafening."
UK law currently allows couples to end their marriage if one partner behaved "unreasonably" or committed adultery or after two years living apart if they both agree. In the event that the two partners do not share a desire to divorce, they must have been living apart for five years before legally separating.
Mr and Mrs Owens have not lived together since 2015.