Silk Way Rally: Mathieu Serradori edges stage four
Comments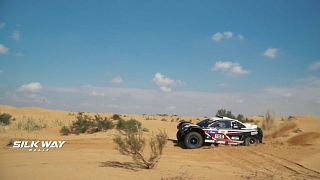 After 366 kilometres of combat on stage four of the Silk Way Rally, there was just one second that separated the Frenchman Mathieu Serradori (Buggy SRT n°108), who won the stage, and Yazeed Al Rajhi (MINI John Cooper Works n°103).
The two were engaged in an intense battle on the special stage around Astrakhan. After having passed the MINI of Nani Roma, and then Al Rajhi, the French driver and his Belgium navigator, Fabian Lurquin, went full throttle to finish neck and neck with their sparring partners at the finish line.
Roma (MINI John Cooper Works n°104) completed the day's podium.
After shining in the rain on stage three, Harry Hunt (Peugeot 3008 DKR Maxi n°107) suffered a day of pain. The front suspension on his Peugeot failed and the British driver had to wait for assistance to fix it, losing two hours.
Nasser Al-Attiyah (Toyota Hilux n°101) had problems with his rear differential and lost huge chunks of time in the overall car classifications.
This leaves Al Rajhi as the new overall leader. The Saudi driver is 46 minutes ahead of Serradori, while Al-Attiyah, third, is now 56 minutes behind.
Good for buggies
Serradori said his vehicle was best suited for the stage's terrain: "The day went well. We started fourth this morning and saw over the first 30 kilometres that our pace was good. We past the Peugeot, which was having problems, and then we moved up to fight with Nani and Yazeed.
"My co-driver did a super job as we opened the piste for quite a while with no tracks in front of us and really enjoyed ourselves.
"The stage was good for buggies, apart from the first 50 kilometres which were very difficult."
Navigation not so easy
For Al Rajhi, it was tough finding their way around the parcours: "We couldn't find the road because of the grass and twice we turned around maybe three minutes and then Nani arrived and we looked together and then over the last part we pushed a little bit. We saw the French guys with the buggy. It was a stage for buggies."
In the trucks category, Andrei Karginov (Kamaz-Master n°309), beat the Dutchman Van Den Brink (Renault Sherpa n°304) by less than one minute. Running into mechanical difficulties, Dmitry Sotnikov (Kamaz-Master n°300) nevertheless holds on to the overall lead.
Tomorrow the Silk Way Rally starts its long route along the Volga, direction Moscow, for the last three stages of this year's event.