Greek wildfire kills at least 20 near Athens as residents flee
Comments
By Reuters with NBC News World News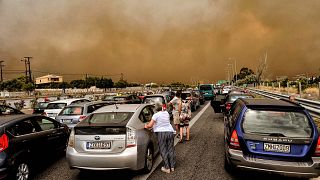 -
MATI, Greece — At least 20 people died and more than 100 others were injured Monday as a wildfire swept through a small resort town in eastern Greece, trapping many victims as they fled.
The fire in Mati, about 20 miles east of Athens, was by far the country's worst since blazes devastated the southern Peloponnese peninsula in August 2007, killing dozens of people. Monday's fire was one of several that broke out during a sweltering heat wave.
"Mati doesn't even exist as a settlement anymore," a woman told Greece's Skai TV. "I saw corpses, burned-out cars. I feel lucky to be alive."
Mati is in the Rafina region, which is popular with local tourists, particularly retirees and children at holiday camps.
Greek State Minister Dimitris Tzanakopoulos, the chief government spokesman, said in a televised statement early Tuesday that the death toll had exceeded 20, while more than 88 adults and 16 children were injured. One of the victims was thought to be a 6-month-old baby who died of smoke inhalation.
A witness said at least four died on a narrow road clogged with cars heading to the safe haven of a nearby beach. Dozens of people scrambled into the ocean as the blaze raged close to the shore, and they were picked up by passing boats.
As darkness fell, the extent of the disaster was impossible to gauge.
"We are dealing with something completely asymmetric," Prime Minister Alexis Tsipras, looking pale, said after he cut short a visit to Bosnia.
Greece issued an urgent appeal for help to tackle fires that raged uncontrolled in several places across the country, destroying homes and disrupting major transportation links. Greece said it needed air and land assets from its European Union partners. Cyprus and Spain offered assistance.
In another fire earlier Monday, Greek authorities urged residents of a coastal region west of Athens to abandon their homes as a wildfire burned ferociously, closing one of the country's busiest motorways, halting train links and sending plumes of smoke over the capital.
It wasn't clear what ignited the fires. Wildfires are common in Greece, but a relatively dry winter created unusual tinder box conditions.
The army was called in on Monday afternoon to help fight the blazes. Achilleas Tzouvaras, a senior fire chief, went on state TV to appeal to people to leave the area of Kineta, west of Athens, after some tried to stay on their properties.
"People should leave, close up their homes and just leave. People cannot tolerate so much smoke for so many hours," Tzouvaras said. "This is an extreme situation."