Trump fires off hostile tweet in war of words with Iran
Comments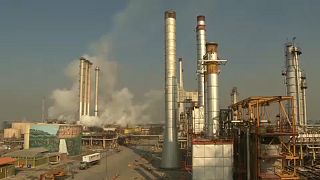 U.S. President Donald Trump has told Iran it risked dire consequences "the like of which few throughout history have suffered before" if the Islamic Republic made more threats against the United States.
His words, spelled out in capital letters in a late night Twitter message on Sunday, came hours after Iranian President Hassan Rouhani told Trump that hostile policies toward Tehran could lead to "the mother of all wars."
Despite the heightened rhetoric, both sides have reasons to want to avoid starting a conflict that could easily escalate.
Trump's comments come as part of a campaign meant to foment unrest and pressure Iran to end its nuclear programme and its support of militant groups, according to U.S. officials.
Iran has faced increased U.S. pressure and possible sanctions since Trump's decided in May to withdraw the United States from a 2015 international agreement over Iran's nuclear programme.
Trump has also threatened to halt Iranian oil exports and is pressuring allies not to buy its oil.
Trump's threat to Iran came hours after a speech by U.S. Secretary of State Mike Pompeo who denounced Iran's clerical leadership as a "mafia" and promised unspecified backing for Iranians unhappy with their government.
Tehran reacted to Pompeo's speech as an interference in Tehran's affairs, the semi-official Tasnim news agency reported.
"Such policies will unite Iranians who will overcome plots against their country," Iranian Foreign Ministry spokesman Bahram Qasemi said.
Israeli Prime Minister Benjamin Netanyahu, who is bitterly opposed to Iran, praised Trump's "strong stance" on Tehran.
At the same time, Germany said threats of war were "never helpful".
There is limited appetite in Washington for a conflict with Iran, not least because of the difficulties the U.S. military faced in Iraq after its 2003 invasion but also because of the impact on the global economy if conflict raised oil prices.
Meanwhile Iran's economy, which is dominated by the regime Revolutionary Guards, is faltering fast.
The value of the rial has more than halved since the beginning of the year and may have reached an all time low on the black market.