Silk Way Rally: Harry Hunt shines in the rain
Comments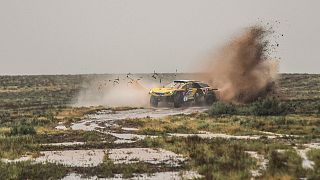 Britain's Harry Hunt (Peugeot 3008 DKR Maxi No 107) shone brightly in the rain to win the third stage of the Silk Way Rally. 
Hunt takes over the lead in the car class following a day to forget for Nasser Al-Attiyah (Toyota Hilux n°101). 
A happy Hunt said: "It was really wet with a lot of standing water. Very muddy and very slippery and with two-wheel drive it was pretty tricky. 
"We got stuck once just before CP2 and Yazeed overtook us. Anyway now we're in the lead which is good but there's still a long way to go and everybody can lose time."
While competitors enjoyed summer-like conditions on stage two, things deteriorated quickly on stage three.
The stage was hit with rain and violent storms. With safety conditions deteriorating by the minute, the organisers decided to stop the race at CP1 (km 140). 
With the sky falling in on his head, Al-Attiyah nevertheless retained his legendary smile. 
Without rear-wheel drive on his Toyota Hilux since yesterday, the Qatari driver didn't have any easy time of it on this stage back to Astrakhan. 
Stuck just 3 kilometres from CP1 (km140) and fearful of having problems with his clutch it took him more than 50 minutes and a big helping hand from the Russian driver Krotov (BMW X3 n°11) to finally make it to the control point. 
Sensing his chance and perfectly guided by his co-driver Sébastien Delaunay, Hunt fought it out with the two MINI John Cooper Works of Yazeed Al Rahji and Nani Roma. 
Between forced showers and barely controlled slides, the three of them were the only ones to make it to the end of the special, crossing the line within seconds of each other. In the end it was the British driver who took his first stage victory just 48 seconds ahead of Al Rahji, in the process taking the overall lead by more than 18 minutes on the Saudi driver. 
With the race stopped at CP1 Al-Attiyah was classified as 16th on the stage and is this evening in 3rd place, 55:24 behind Hunt.
Trucking hell
Dmitry Sotnikov (Kamaz-Master) strengthened his position as overall leader in the trucks category after special stage was stopped at kilometre 140 (CP1).
It was a hellish day for the three Kamaz trucks. All three were up to the axels in mud with nowhere to go. First it was Andrey Karginov. Next was Eduard Nikolaev. Then Anton Shibalov became trapped, all trying to help each other. The leading trucks would lose about 30 minutes.
Starting last this morning from Elista, after driving all night, following repairs to his Renault Sherpa, it was Martin Van Den Brink who saved the day for the Russian team. The Dutchman will able to celebrate his birthday in style after finally finishing second on the day behind Sotnikov. 
In the process the winner of the 2017 edition increases his overall lead on his team mates Mardeev and Karginov by 26 and 35 minutes respectively. 
But the biggest loser on the day was MAZ Sport Auto team, whose leader Siarheii Viazovich conceded more than three hours, stuck off-piste after trying to go round an obstacle.