Will a pit-lane infringement cost Hamilton his victory at Hockenheim?
Comments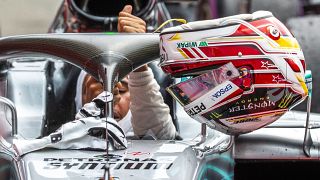 Formula One champion Lewis Hamilton risks losing his German Grand Prix victory after being summoned by Hockenheim stewards for a possible pit-lane infringement.
Stewards were investigating whether the Mercedes driver illegally crossed a line separating the entry from the track when he hurriedly changed his mind about a pit-stop.
Hamilton could be handed a time penalty if found guilty of the offence.
He finished 4.5 seconds ahead of Finnish team mate Valtteri Bottas and 6.7 clear of Ferrari's third-placed Kimi Raikkonen.
The summons came more than an hour after the end of the race at Hockenheim, after the podium presentations and news conferences.
Hamilton's victory had catapulted him 17 points clear of Ferrari's Sebastian Vettel, the home favourite who crashed out while leading on a wet and slippery track.