Europe briefing: Five stories to know about today
Comments
By Alice Tidey & Reuters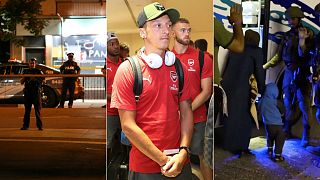 -
1. Toronto shooting
A gunman opened fire in Toronto on Sunday evening, killing one woman and injuring thirteen people.
A young girl of "eight or nine years" is in critical condition.
A man believed to be the shooter was killed in an exchange of fire, police said, adding that they are exploring possible motives for the shooting.
2. Macron's deepening political crisis
French President Emmanuel Macron has announced a reshuffle of his private office and admitted to failings in the way it handled the scandal over his security aide caught beating a protester in May.
Alexandre Benalla was filmed hitting a man and violently dragging a woman at a May Day protest while wearing police insignia, a Le Monde investigation revealed last week.
France's Interior Minister, Gerard Collomb, who is to appear in front of a parliamentary inquiry on Monday, said that police confirmed to him that they had received the information on Benalla on May 2.
"It was up to them to impose sanctions," Collomb said.
3. Trump, Rouhani escalate war of words
US President Donald Trump sent out a fiery tweet on Sunday, warning his Iranian counterpart to "never, ever threaten the United States again."
The tweet came hours after Rouhani's issued his own warning. Iranian state news agency IRNA reported Rouhani saying that Trump was playing "with the lion's tail" and that war with Iran would be "the mothers of all wars."
The two leaders have engaged in an increasingly bitter war of words since the US pulled out of the Iran nuclear deal, aimed at curbing the country's nuclear ambitions in exchange of a weakening of sanctions.
4. Mesut Ozil quits German national team
Arsenal football player Mesut Ozil announced he will no longer be playing with the German national team.
In a Twitter statement, Ozil said he would not stand the criticism and "racist" commentary he received from German media and the German Football Association (DFB) because of the picture he took with Turkey's Recep Tayyip Erdogan in May at a London event.
The midfielder faced a barrage of criticism in Germany for having his photograph taken with the Turkish president.
The Arsenal midfielder also said he felt he'd been used as a scapegoat for Germany's early defeat at the World Cup and wonders whether it has anything to do with his heritage or the fact that he's Muslim.
5. EU and UK heading for accidental no-deal Brexit, warns UK minister
Britain's newly-appointed Foreign Secretary, Jeremy Hunt, warned on monday that there was a risk of Britain exiting the European Union without a deal if EU negotiators waited too long for London to blink in Brexit negotiations.
Hunt made the comments in Berlin where he was meeting with his German counterpart Heiko Maas.
As it happened updates for Monday, July 23.
This is how we covered key developments this morning: