Israel evacuates hundreds of Syria's White Helmets to Jordan
Comments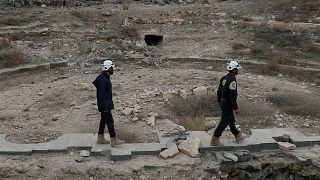 Israel has evacuated hundreds of members of the White Helmets civil defence group and their families from a war zone in southern Syria "due to an immediate threat to their lives".
In a statement posted to Twitter, the Israel Defense Forces (IDF) said they carried out the evacuation at the request of the United States and some European countries.
"The civilians were evacuated from the war zone in Southern Syria due to an immediate threat to their lives. The transfer of the displaced Syrians through Israel is an exceptional humanitarian gesture," the IDF said.
It has been confirmed that the evacuees were taken to Jordan via the Israeli-occupied Golan Heights overnight.
They will now be resettled in Britain, Germany and Canada within three months, a Jordanian government source told Reuters.
The source said 422 people were brought from Syria, down from a figure of 800 announced earlier by the foreign ministry in Amman.
In a statement, UK Foreign Secretary Jeremy Hunt and International Development Secretary Penny Mordaunt said the evacuees would be assisted by UNHCR before being resettled.
"The White Helmets have saved over 115,000 lives during the Syrian conflict, at great risk to their own," the statement said.
"White Helmets have been the target of attacks and, due to their high profile, we judged that, in these particular circumstances, the volunteers required immediate protection. We therefore took steps with the aim of affording that protection to as many of the volunteers and their families as possible."
The White Helmets, who say they are politically neutral, operate in opposition-held areas, where government services are almost non-existent. Syrian government supporters accuse them of being politically affiliated with the rebel groups.
The evacuation came as a government offensive restored Syrian government control over a swathe of southwestern Syria — strategic territory at the borders with Jordan and the Israeli-occupied Golan Heights.
In the last few days several hundred rebels and their families have also been evacuated from southern Quneitra province as part of a peace deal brokered by the Russian military.