Former Trump advisor Bannon plans to boost far-right in Europe with new foundation
Comments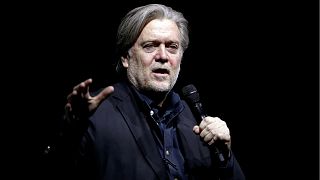 Copyright

REUTERS/Moritz Hager/File
Steve Bannon, the controversial former chief advisor of US President Donald Trump, has announced plans to establish a foundation in Europe to spark a populist right-wing revolt.
Bannon told The Daily Beast that the foundation, called The Movement, will rival George Soros' Open Society Foundation, which has given away billions of euros to largely liberal causes.
The non-profit will offer polling, advice on messaging and data targeting, and think-tank research to right-wing groups, Bannon said.
He said he believed that the coming years would see an end to European integration.
"Right-wing populist nationalism is what will happen. That's what will govern," he said. "You're going to have individual nation states with their own identities, their own borders."
Bannon said he has met right-wing politicians across Europe over the past year, including former UKIP leader Nigel Farage, members of Marine Le Pen's Rassemblement National and Hungary's Viktor Orban.
He told The Daily Beast he envisions a right-wing "supergroup" within the European Parliament, which could attract as many as a third of MEPs after Europe-wide elections next May.
Several MEPs criticised the plans on Sunday.
"Steve Bannon's far-right vision & attempt to import Trump's hateful politics to our continent will be rejected by decent Europeans," Belgian MEP Guy Verhofstadt, the president of the European Parliament's Alliance of Liberals and Democrats for Europe, wrote on Twitter.
"We know what the nightmare of nationalism did to our countries in the past. We must #BanBannon!"
German MEP Udo Bullmann, a member of the Party of European Socialists, described the move as "an attack on freedom and democracy in Europe."
Dutch politician Marietje Schaake, a member of the Alliance of Liberals and Democrats for Europe Party, called for a "strong movement at the heart of the political center to defend our freedoms and democracy."