Charge continues on second stage of 2018 Silk Way Rally
Comments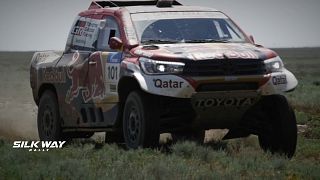 In the cars category, Nasser Al-Attiyah won the second stage of the 2018 Silk Way Rally, but only with front wheel drive! The first part of the Marathon stage was a fast but rutted stage to Elista, where there would be no assistance waiting. There was bad news for Nasser as the Toyota's rear differential failed, leaving his Hilux with just front wheel drive.
Nasser and Matthieu Baumel have been turning around their Toyota Hilux, cordoned off until tomorrow morning in the parc ferme set up in the heart of Elista. Not enough to stop the leaders, but a problem that couldn't come at a worse time, the day of the marathon stage, where the competitors are left to their own devices, without outside assistance. It will not be fixed until Monday.
"Tomorrow will be a damage limitation exercise. If we lose 6 or 10 minutes it will be OK. But the transmission has to hold up until we get to the finish," said the Qatari driver, who in addition was penalised one minute for speeding on the stage.
With that added to their time, the leaders were only 3:34 ahead of the Peugeot 3008 DKR Maxi No 107 of British driver Harry Hunt, third on the day, slotting in between the MINI John Cooper Works of Saudi Yazeed Al Rahji, who recovered today after a puncture on the opening day to finish just a couple of minutes behind his arch rival. 
"Everything OK. After 90 kilometres we catch Hunt. We stay in his dust and after I overtake him. Then at around kilometre 180 he overtakes me again and then I follow him to the finish because his car has good top speed," Yazeed said.
Yazeed is now the lead X-Raid after yesterday's illness struck down Nani Roma, whose health, moral and racing spirit increased progressively as he approached the capital of the Republic of Kalmoukie. One thing is sure: tomorrow's 332 km special stage back to Astrakhan is likely to turn into a fine game of chess!
WOMEN IN CONTROL IN T2 AND T3
In the T2 category, second on the day behind the Chinese-driven Toyota Land Cruiser, Russian Anastasia Nifontova (Toyota Land Cruiser No 132) holds onto a comfortable lead overall in the production class. In Elista, there were also two women at the top of the T3 category. Taking full advantage of a huge crash of previous leader Nicolas Duclos's (Polaris RZR n°117), who rolled after CP1 and spent the day repairing the buggy on route to finish the day, Maria Oparina and Taisiia Shtaneva (Maverick X3 n°115) move up to the overall lead, 1:30 in front of Bulgaria's Cenkov (Quaddy Yxz n°130), winner of this 2nd stage.
TRUCKS: KAMAZ ON TOP FORM, BAD DAY FOR MAZ
The day after a less than successful first stage, which had been the result of a multitude of niggling little problems, Team Kamaz-Master were today back on flying form. 
But it was a disastrous day for MAZ, Vishneuski had engine issues and was waiting for help from Vasilievski, but he was stuck in the mud 10kms earlier. Eventually the 305 was fixed to pull 307 out. 
And while Andrey Karginov (Kamaz-Master No 309) took the stage win ahead of team mates Dmitry Sotnikov and Eduard Nikolaev, victim of a broken wheel 20 kms from the finish, Airat Mardeev, Shibalov and Kupriyanov completed an impressive grouping for the Russian manufacturer. The Kamaz of Karginov won the stage by 7 minutes, after an impressive end to the stage, finding 9 minutes over team mate Nikolaev in just 40kms.
Overall, Karginov is just 1:47 ahead of Sotnikov, a gap that promises a fine fight between the two team mates tomorrow as they head back to Astrakhan.