UK Space Agency unveils contest to name robot that will seek life on Mars
Comments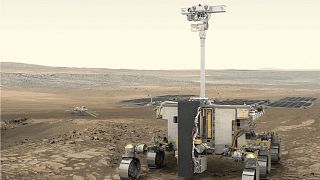 Copyright

ESA/ATG medialab
The UK Space Agency is inviting space enthusiasts to name a Mars Rover that will be launched into space in 2020.
The competition was announced by European Space Agency (ESA) astronaut Tim Peake at the Farnborough International Airshow on Friday.
"Mars is a fascinating destination, a place where humans will one day work alongside robots to gather new knowledge and search for life in our Solar System," said Peake.
"The ExoMars rover is a vital part of this journey of exploration and we are asking you to become part of this exciting mission and name the rover that will scout the martian surface."
Name suggestions that have already launched into the Twittersphere include "Rovy McRoverface" and "Major Tom".
The robot was assembled by British engineers and will be used as part of the ESA's 'ExoMars' mission to determine the Red Planet's evolution and search for signs of life.
It will collect and analyse samples, and investigate conditions for life underground, which is protected from the Sun's radiation.
It is expected to land at around March 2021.
ESA's Director of Human and Robotic Exploration David Parker said: "When I was young and dreamed of Mars exploration, this mission would have been science fiction.
"This competition is bound to inspire many across Europe and bring the Red Planet closer to home."
Competition entrants can submit name suggestions by filling in a form online.