NGO says Libya abandoned migrants at sea
Comments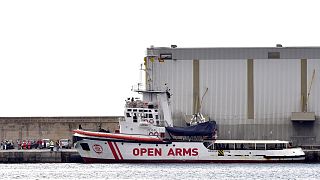 A boat belonging to Spanish NGO Proactiva Open Arms has docked in Spain carrying a woman rescued from the wreckage of a dinghy off the coast of Libya.
The survivor, a Cameroonian woman named Josepha, was suffering from hypothermia when she was found alongside the bodies of another woman and a young boy.
The NGO has accused Libyan authorities of abandoning the three at sea when it rescued 158 other migrants from the dinghy on Monday (July 16) night. The Libyan Coast Guard denies leaving anyone on board.
Proactiva Open Arms asked permission to dock in Palma de Majorca after Italy agreed to receive Josepha but refused to accept the two dead bodies.
The NGO said the decision to make the longer journey to Spain was to ensure Josepha's "protection" and "complete freedom to testify"
Italy's Interior Minister Matteo Salvini is leading a campaign to bar rescue ships from Italian ports.
He says Europe needs to block migrants from leaving Africa and send asylum seekers back to the ports they depart from, including Libyan harbours. 
Libya is under pressure from Italy to prevent migrants leaving its shores to attempt the dangerous sea crossing to Europe.