Hungarian Prime Minister Orban wraps up Israel visit
Comments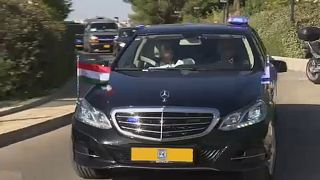 Hungarian Prime Minister Viktor Orban has ended his two-day trip to Israel with a visit to the Western Wall in Jerusalem, the most religious site in the world for the Jewish people.
The Hungarian leader was joined by Jewish religious leaders and slipped a wish-note into the cracks of the Wall.
Orban is wrapping up a controversial visit where he met with top politicians and religious heads and was hailed by Israeli Prime Minister Benjamin Netanyahu as a "true friend of Israel".
On Thursday, angry demonstrators blocked Orban's motorcade outside the Yad Vashem Holocaust memorial over his nationalistic policies and apparent embrace of a Holocaust-era Nazi collaborator.
The four-time Hungarian premier drew criticism last year for praising Miklos Horthy - Hungary's World War II-era ruler who introduced anti-Semitic laws and worked with the Nazis
Protestors held signs reading 'Never Again' in both Hungarian and Hebrew and shouted "shame on you".
Police quickly removed the demonstrators, some of whom also spoke out against Yad Vashem for hosting the Hungarian premier.