Children go native as Latvian schools say 'Nē' to Russian
Comments
By Maria Epifanova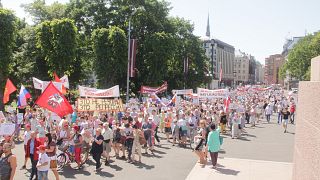 Demonstrations over school reforms are nothing new to the picturesque Baltic metropolis of Riga.
The Latvian capital witnessed the latest protest on this hot topic at the beginning of June. A march from the Latvian Riflemen Monument in the centre of the city's old town to the seat of government numbered over four thousand as drums punctuated the battle cry of "hands off Russian schools!".
In April, Latvia's president Raimonds Vējonis signed new amendments to the Education Law and the Law on General Education under which schools for ethnic minorities will gradually start to move towards secondary education being taught solely in the Latvian language.
The reform itself was first announced in autumn 2017 by Kārlis Šadurskis, the Minister of Education and Science, and right away caused an uproar from Russian-speaking minorities.
Aleksandrs Bartaševičs, the mayor of Rezekne — a town with a very high percentage of Russian speakers — called this reform "a crusade against Russian schools". Many parents agree.
"I believe, when a language that is native for over a third of the country's population is treated as foreign, it's nonsense," says mother-of-three Eugenia Kriukova. "We are not foreigners and we are not going to become them."
For first language Latvians, however, this issue is not providing much of a drama. Nevertheless, many of them see no need for such a change. "We are often visited by Russian kids, scholars, they perfectly speak Latvian," says Rūta Kārkliņa, a teacher of the Latvian language and director of Krišjāņa Barona museum. "During all those years as a teacher, I've never had a person who wanted to learn Latvian, but didn't manage to."
Though over 30% of Latvia's inhabitants call Russian their native language, there have been no officially defined "Russian" schools in Latvia since 2004. The model adopted that year presumed that all schools for ethnic minorities were bilingual. In primary school they could learn in their native language; in secondary school (5th-9th grade) part of the subjects was taught in Latvian and part in the native language; the proportion in high school was a 60:40 split in favour of Latvian. Which subject was taught in which language was up to the school as long as the proportion was correct, but generally, schools with technical focus would teach Maths, Chemistry and Physics in Russian, those with a focus on the humanities would teach History, Law and Literature in Russian.
Here's the new proposal: Study will remain bilingual up to the 6th Grade. For grades 7-9 (from the 2019/2020 academic year) 80% of all subjects will be taught in Latvian and the exams will be held in Latvian too. For grades 10-12 (from 2021/2022) all subjects will be taught in Latvian.
Schools of ethnic minorities maintain the right to teach the children's native language, literature and cultural studies as elective courses.
So what's the point of the reform?
Supporters believe the main goal is to make graduates more competitive in the labour market. Accessing higher education and higher salaries in the workplace is generally more easily achieved if a graduate speaks Latvian.
The opposing corner says Latvian children already speak the official language well enough, and a good grasp of Russian will only serve as a bonus.
But does this transcend education and become a rights violation?
Boriss Cilevičs, the vice-head of Parliament's commission for civil rights, quotes the Council of Europe's Framework Convention for the Protection of National Minorities, which states that it is important to ensure "in areas inhabited by persons belonging to national minorities traditionally or in substantial numbers … persons belonging to those minorities have adequate opportunities for being taught the minority language or for receiving instructions in this language".
Latgale, in eastern Latvia, is one such example. Over 60% of inhabitants name Russian as their native language.
Another article of the Convention states that "the Parties shall create the conditions necessary for the effective participation of persons belonging to national minorities in cultural, social and economic life and in public affairs, in particular, those affecting them". And Cilevičs has pointed out that public opinion on this issue was not solicited.
Are the protests having an effect?
In short. Not really.
Protesters organise demonstration after demonstration, but once the law was signed by the president, it is hard to turn around.
Is this about politics or education?
School reform can be seen as a political fight for both the authors of it and the movements resistant to it and let's not forget that elections are on the horizon in the autumn.
Transferring education in all schools into Latvian was one of the key points in the manifesto of National Alliance "All for Latvia!" — "For Fatherland and Freedom" — a nationalist party that is now part of the ruling coalition in parliament.
A fight against this reform will breath new life into the "Latvian Russian Union", a party that has been silent for many years and has lost most of its voters to "Harmony", a centre-left party supported by many Russian-speakers.
Protests against the reform have already led to one criminal case. On 10 May, Vladimir Linderman, one of the leaders of the protest, was arrested and later released, though the criminal case against him is still in process.
Linderman is suspected of inciting racial hatred, taking actions against the independence, sovereignty and territorial integrity of the Latvian state and organising civic disorders.