Mezze: Syrian refugees bring a taste of home to Lisbon
Comments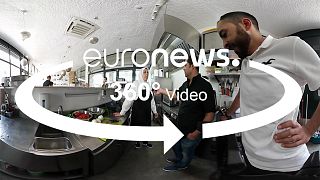 Euronews went to the Arroios Market, one of Lisbon's oldest and most historical markets. It opened in 1940.
A few years ago, it went through a renovation. Apart from the traditional stands, now there are restaurants. One of them is very special, it's called Mezze and it is run by a non-governmental organisation.
All the employees here are Syrian refugees. We stopped by to taste the food. Today they are organising a workshop, where 13 people are learning how to cook Middle Eastern specialities.
Alaa Alharir, Fatima Wafa Ganham and Rafat Dabah left Syria because of the war. They explain the ideas behind setting up a restaurant in Lisbon.