Europe briefing: 9 stories to know about today
Comments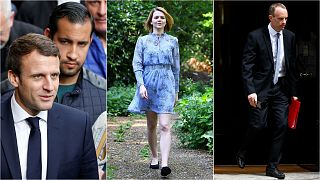 1. Macron's security chief 'assaults protester in Paris'
The former head of security of French president Emmanuel Macron was suspended after assaulting a protester during May Day demonstrations in Paris, it's emerged.
Video shows Alexandre Benalla attacking a young man while wearing a police helmet, even though he was not an officer.
Critics said the footage gave impression Macron's entourage thought they were above the law. A spokesman for Macron said Benalla's behaviour was unacceptable.
2. Sweden's forest fires stretch as far as Arctic Circle
Sweden, known for its mild climate, is battling a higher-than-normal number of forest fires, stretching up as far as the Arctic Circle.
Authorities today said they were fighting 35 blazes and that July had seen three times as many fires as this time last year.
Warmer temperatures, a lack of rain and human error have been blamed.
3. Brexit chief's first trip to Brussels as May fallout continues
Britain's new Brexit chief, Dominic Raab, will make his first visit to Brussels today in the new role. He was appointed after predecessor David Davis resigned in protest over PM Theresa May's new strategy on Brexit.
EU negotiators have reservations about May's new plan but have kept quiet because it is still seen as the best chance for some semblance of order in London, reports Reuters.
It comes after Boris Johnson, who followed Davis out of the cabinet, used his resignation speech in parliament yesterday to criticise May for 'dithering' over Brexit as rumours persist a leadership challenge will be launched.
4. Trump calls out 'aggressive' NATO ally Montenegro
US President Donald Trump has suggested he would be unhappy to defend NATO ally Montenegro if it were attacked.
His comments call into question NATO's central principle of mutual defence: if one country is attacked the alliance comes to its aid.
Trump also questioned whether the country's "very aggressive people" could draw NATO into a war with Russia.
It comes as 14 people are on trial in Montenegro accused of plotting to kill the prime minister and stage a coup to bring a pro-Russian party to power.
5. Ryanair to 'cancel 300 flights' due to cabin crew strikes
Ryanair has apologised to customers after revealing it will cancel 300 flights on July 25 and 26 because of cabin crew strikes in Belgium, Portugal and Spain.
Unions earlier this month published a list of demands for cabin crew including being paid into bank accounts in their own countries, rather than in the Republic of Ireland.
Ryanair called the strikes unjustified and said its cabin crew "enjoy great pay, industry-leading rosters and uniform allowances".
6. Juncker and Mogherini duped by pranksters
A Russian duo described as pranksters have duped European Commission President Jean-Claude Juncker and EU foreign policy chief Federica Mogherini into believing they were speaking to the Armenian prime minister, Euronews has learned, prompting concerns about security breaches.
The two separate calls, which lasted about 10 minutes and 12 minutes respectively, occurred in May shortly after Nikol Pashinyan was sworn in as Armenia's new prime minister.
Listen to the audio and read the full story.
7. Police and public recognised for their bravery confronting terrorism
Three police officers and five members of the public have been recognised for their bravery in confronting terrorists during the London Bridge terror attack last June.
Spanish banker Ignacio Echeverria — who died after confronting the knife-wielding terrorists with only his skateboard — was among those recognised in the UK's Gallantry List, which is approved by the Queen
Also recognised was Hassan Zubier a British born paramedic who was stabbed while helping a victim of a knife attack in Finland.
8. Turkey ends state of emergency
Turkey today ends a state of emergency that was imposed after a failed coup two years ago.
A crackdown after the attempt saw 150,000 civil servants purged and 77,000 of those suspected of having linked to the failed coup charged.
But critics claim the lifting will not change much. They say Erdogan's new executive presidency and a proposed anti-terrorism law give him sweeping powers to stifle dissent.
9. British police 'identify' Novichok attackers
Police in the UK believe they have identified the suspected attackers behind a nerve agent attack on a former Russian spy and his daughter, reports the Press Association.
Sergei Skripal and his daughter Yulia were struck down with the Novichok poison in March in Salisbury, southern England, but later recovered.
In late June it emerged another couple, based near Salisbury, were hospitalised after coming into contact with the nerve agent. Dawn Sturgess later died while her partner Charlie Rowley remains in hospital.
As-it-happened updates for Thursday, July 19
This is how we covered key developments this morning: