Silk Way Rally 2018: the gruelling race prepares to kick off in Russia
Comments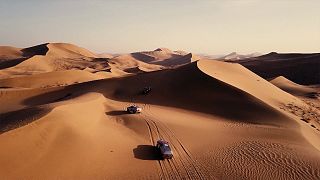 The 2018 Silk Way Rally is poised to be one of the most competitive ever. The race comprises 2,500 kilometres of special stages over seven days.
The rally kicks off with two loops around the Takyr desert, in Russia's Kalmykia region.
In between this stage, drivers will visit the city of chess in Elista on a marathon stage.
The race then heads north to Volgograd, Lipetsk before a finale in Moscow.
This year the Silk Way Rally is split into two stages: the first will be held in Russia from 20th to 27th of July, and the second is scheduled for September in China. 
Race director Frederic Lequien says the rally is not for the faint-hearted: ''The race is going to be difficult, because of the route, of the dunes, the sand, the steppe... It's going to be also difficult because navigation is very, very hard. The level of difficulty is growing every day, and that's good for the race."
For the first time, the car categories will include no previous winners.
Among the newcomers is Nani Roma, winner of 2014 Dakar. The battle promises to be interesting within the X-Raid Mini John Cooper outfit with teammate Yazeed Al Rajhi looking to challenge for honours. 
Nasser Al-Attiyah from Overdrive Racing will be another serious contender for victory.