Jeff Bezos becomes 'richest in modern history' as Amazon workers strike
Comments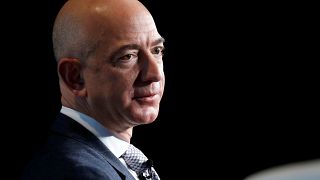 Amazon founder and CEO Jeff Bezos has been named the "richest man in modern history". That's according to the Bloomberg Billionaires Index — a daily ranking of the world's richest people.
The 54-year-old's net worth reached $150 billion (€127 billion) in New York on Monday. The announcement coincides with "Prime Day", one of Amazon's biggest promotions of the year. This year, thousands of European Amazon workers are striking during Prime Day to draw attention to working conditions.
The technology industry dominates the list, as did entrepreneurs who originate in the US. The richest woman in the world is Alice Walton, who is the heiress to the fortune of Wal-Mart Stores. Her net worth is estimated to be a whopping $46 billion.