"Lava bombs" injures 23 on boat trip in Hawaii
Comments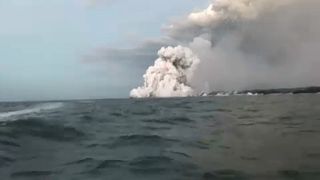 Hawaii tours face tighter restrictions after a volcano exploded injuring 23 people.
An investigation is underway to see if the "Hot Spot" boat got too close to molten rock and was hit by "lava bombs".
Ikaika Kalama witnessed the incident from a boat nearby. He says, "Some actually exploded about 300 yards in the air. Particles of the lava actually landed on the vessel, damaged most parts of the vessel. From what I heard, actually, a big chunk fell through the roof and partly on passengers".
The limit was 50 meters for experienced vessel operators but now the U.S. Coast Guard requires boat captains to stay at least 300 meters from lava flowing into the Pacific Ocean.
Lava Ocean Tours say they were well outside the original limit.