Lava again threatens homes in Hawaii
Comments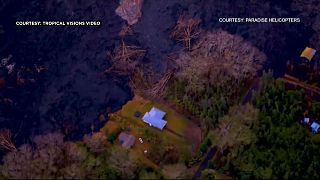 Hawaii's Kilauea volcano is showing no signs of letting up.....with lava flows again creeping dangerously close to homes.
Volcanologists said an explosion at the summit late on Saturday produced energy equivalent to a magnitude 5.3 earthquake.
The eruption, which began at the end of April, is the most destructive in the United States since Mount St. Helens in 1980 which killed nearly 60 people
No one has died in Hawaii but at least 600 homes have been destroyed.