Ryanair plane makes emergency landing after descending 27,000 ft in seven minutes
Comments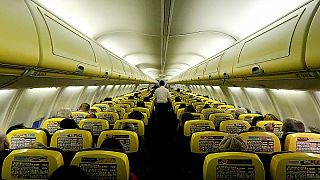 Nearly three dozen Ryanair passengers were hospitalised after their plane lost cabin pressure and made an emergency landing in Germany.
Data on flightradar.com shows the plane fell from 37,000 to 10,000 feet in just seven minutes. Ryanair said it as a "controlled descent".
Thirty-three of 189 passengers on the flight from Dublin to Zadar, Croatia, were treated in hospital, some for bleeding from their ears, said German police.
One passenger posted pictures on Facebook of oxygen masks hanging from the ceiling of the Ryanair plane.
Flight FR7312 made an emergency landing at Frankfurt Hahn airport after the incident late on Friday evening.
Ryanair said a plane had left Frankfurt to Zadar on Saturday morning. Police said some passengers had decided not to continue with their journey.
A spokesman for Ryanair said: "This flight from Dublin to Zadar (13 July) diverted to Frankfurt Hahn due to an inflight depressurisation. In line with standard procedure, the crew deployed oxygen masks and initiated a controlled descent.
"The aircraft landed normally and customers disembarked, where a small number received medical attention as a precaution.
"Customers were provided with refreshment vouchers and hotel accommodation was authorised, however there was a shortage of available accommodation.
"Customers boarded a replacement aircraft which departed to Zadar this morning and Ryanair sincerely apologised for any inconvenience."
German air accident investigator BFU, responsible for investigating the incident, said its team was heading to Hahn airport to secure the cockpit voice recorder and flight data recorder and to interview crew and passengers.
The BFU spokesman declined to speculate on the possible cause of the incident.