May Day: Trump blasts British prime minister ahead of meeting
Comments
By Phil McCausland with NBC News World News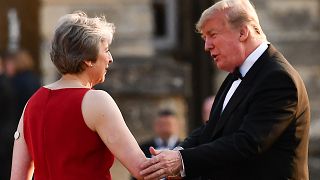 -
President Donald Trump continued to attack America's European allies on Thursday — this time aiming at the British Prime Minister as he was being greeted by Theresa May at the start of his visit to the United Kingdom.
British tabloid newspaper The Sun published an interview with Trump on Thursday, where the president blasted May's Brexit negotiations, as well as European immigration policy, NATO and London Mayor Sadiq Khan.
It went online on the same evening that May hosted Trump for dinner at Blenheim Palace - the birthplace of British World War Two leader Winston Churchill - in the English countryside.  On Friday, the two leaders met for talks at May's country retreat Chequers, while elsewhere thousands of people gathered to protest against the US president.
In the interview, Trump said that May's plan for a "soft Brexit" could scuttle an American trade deal with the U.K. because the the island nation would remain too close with the European Union.
"We are cracking down right now on the European Union because they have not treated the United States fairly on trading," Trump said. "No, if they do that, I would say that would probably end a major trade relationship with the United States."
In the interview, Trump insisted that he would have negotiated the deal differently than May, and he said that he had provided the prime minister his "views on what she should do and how she should negotiate."
"I would have done it much differently. I actually told Theresa May how to do it but she didn't agree, she didn't listen to me. She wanted to go a different route," he said.
"I would actually say she probably went the opposite way," Trump said. "If you really look, she probably went the opposite way. And that's fine. She should negotiate the best way she knows how. But it is too bad what's going on."
But Trump declined to provide any details about the advice he provided May.
The American president also praised Boris Johnson, who just resigned as Britain's foreign secretary earlier this week because he did not approve of May's negotiations over Brexit. Trump even asserted that Johnson, a former mayor of London, "would be a great prime minister.
"I think he's a great representative for your country," he said. "I was very surprised and saddened that he was getting out of government."
Johnson is actually remaining in government as a member of Parliament despite resigning as foreign secretary.
Trump also spoke on immigration policy in the interview, saying that Europe was losing its identity and culture because of an influx of migrants.
"Allowing the immigration to take place in Europe is a shame," Trump said. "I think it changed the fabric of Europe. And unless you act very quickly it's never going to be what it was and I don't mean that in a positive way. So I think allowing millions and millions of people to come in to Europe is very, very sad. I think you are losing your culture."
Trump conflated immigration and terrorism in the interview, and he said that Khan, London's mayor, had done a "terrible job."
Trump also blasted Londoners in general, for protesting his arrival in England, and said that he "used to love London as a city," but added "when they make you feel unwelcome, why would I stay there?"
He did, however, praise the Queen of England, whom he is scheduled to meet on Friday.
"If you think of it, for so many years she's represented her country, she's never really made a mistake," he said. "You don't see, like, anything embarrassing. She's just an incredible woman. My wife is a tremendous fan of hers. She's got a great and beautiful grace about her."