Why Croatia football fans wear water polo caps
Comments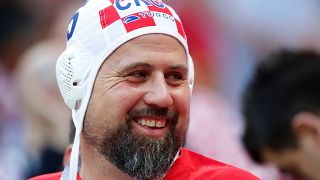 There is a wide range of fan gear at the World Cup: some wear jerseys, others wrap themselves in the flag of their country. And some fans — like Croatians — wear water polo caps.
Back in 2016, at the UEFA Europa League, Croatian defender Vedran Ćorluka found himself unable to play in a match against the Czech Republic after sustaining a considerable head wound that wouldn't stop bleeding in the opener against Turkey. So for the second half of the game, Corluka donned a water polo cap with the colours of Croatia — and a fan movement was born.
Like in many Balkan countries, water polo is a popular sport in Croatia. In 2012, Croatia claimed gold at the Olympics and then beat Hungary in 2017 to claim the men's world water polo title.
The cap was given as a gift by water polo player and Olympic-gold medalist Paulo Obradović to Croatia's team doctor Boris Nemec, who had treated Obradović previously. Croatia's physiotherapist Nderim Redžaj came up with the idea of using the cap to hold Ćorluka's wound.
Ćorluka's photo in the cap was added to UEFA's football museum.