Paris says 'au revoir' to metro ticket, ushers in contactless payment
Comments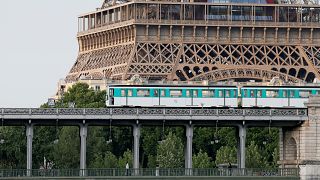 -
The Parisian metro is to phase out its emblematic rectangular paper ticket and introduce a contactless payment method, the city's transport authorities announced on Wednesday.
Two new travel passes are to be created after transport authorities for the French capital approved the measure in a meeting held on Wednesday.
The "Navigo Liberté+" pass, designed for people who travel regularly but not enough to warrant buying one of the already-existing weekly, monthly or yearly passes, will allow users to travel without topping up or buying tickets. It will be linked to a bank card and usage will be debited at the end of each month.
The new card, to be introduced in October 2019, will also enable users to make metro-bus or tram-metro correspondences without having to pay for two tickets, as is currently the case. Furthermore, tickets will cost the same as if they had been bought as part of a book of 10.
Single tickets cost €1.90 but a book of 10 tickets costs €14.90.
"With Navigo Liberté +, we're putting an end to an injustice: at last it will be possible to hop from the metro onto a bus without paying twice. On top of this correspondence, which had been requested by users' associations for a long time, you'll travel at the same price as the book of tickets from the very first use," Valérie Pécresse, president of the Ile-de-France region, said in a statement.
Meanwhile, the "Navigo Easy" pass, created for the occasional user, was modelled on London's Oyster card. It will cost €2 to buy and will then have to be topped up.
'More reliable'
Paris has been using several variances of the little rectangular slip of paper since its metro system was introduced in 1900 when the city was hosting the World Expo.
Authorities said the new passes will provide a "more reliable and ecological" service as the current version, which has a magnetic strip in the middle, often demagnetises itself.
It should also help decrease pollution as tickets — sold to the tune of 550 million each year — are a ubiquitous sight on the streets of the capital but take a full year to decompose.