Six-metre-long python still missing in Warsaw; drones deployed to aid in search
Comments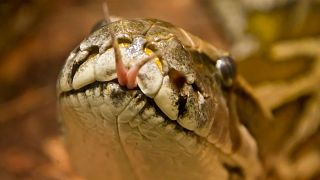 Animal Rescue Poland Foundation and Warsaw Zoo officials are on their tenth day of hunting for what specialists believe could be a six-metre-long, 50-kilogram Indian python after its shed skin and tracks were discovered in Warsaw.
Drones have been deployed to aid in the rescue efforts. According to a veterinarian working with Animal Rescue Poland, the drones have collected 3,000 photos of the surrounding areas to give clues as to the snake's movements. However, recent rainy weather has halted efforts.
Officer Jarosław Sawicki told Poland In English that the snake may be dangerous, while David Fabiański of Animal Rescue Poland said he believed the python was likely near a water source, basking in the sun.
"After dropping the slough the animal must have been hungry and it's certain that it will hunt but to do that, first it has to warm up and that's why the sun is on its side," he told the website.
Ryszard Topola, an employee of Warsaw Zoo, told Euronews that he believed the python was from a private collection.
"We don't know if it escaped or it grew too much to be kept in a private collection… [We] are working to receive as much information as possible from different sources — private [institutions], governmental bodies that work on nature conservation, animal dealers, circuses".
Topola said he does not think the python poses a high risk to the public because it is probably used to behaving around humans.
But on the fifth day of the search, he said there was no end in sight.