NATO invites FYR Macedonia to begin accession talks
Comments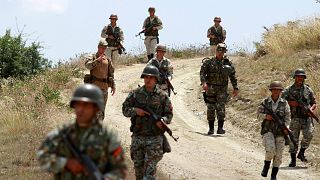 NATO has formally invited the Former Yugoslav Republic of Macedonia to begin accession talks to join the military alliance.
The invitation, which had been widely expected, was offered on Wednesday at a NATO summit in Brussels.
It came after the country resolved a long-running dispute with NATO-member Greece over its official name.
FYROM is controversial for Greeks because it uses the same name as a neighbouring region in northern Greece, leading to concerns that Skopje would make territorial claims to the area.
The two sides agreed last month that the country should be re-named the Republic of North Macedonia, pending a referendum on the issue in FYROM later this year.
In exchange, Athens has stopped blocking efforts by FYROM to join both NATO and the European Union
The invitation, which could see the small Balkan state become NATO's 30th member, came amid opposition from Russia, which is against the eastward expansion of the alliance.
NATO warned that "solution of the name issue is a condition for a successful conclusion of the accession process."