To Brexit or not to Brexit: uncut interviews with Tony Blair and Nigel Farage
Comments
By Daniel Cohn-Bendit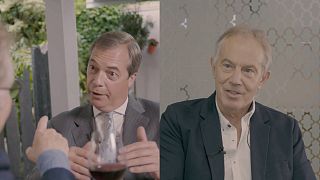 The entire European project needs to be rethought, says Nigel Farage.
Brexit is not a done deal, says Tony Blair.
The Franco-German politician Daniel Cohn-Bendit spoke to the former British heavyweights on Uncut, Euronews' new political current affairs programme.
Bad project
Farage, the hero of Brexit, says there is no point in having democracy if the European Commission runs your country.
He says the European Union is a "bad project and needs to end completely".
The EU must accept that its attempt to "impose upon people a sense of European nationhood and identity doesn't work", he says.
"If you ask me about Europe, do I love Europe as the continent, do I love all the different European peoples, do I think they should trade together, cooperate together, be friends together, yes, yes, yes and yes I do.
"I want European cooperation, but I think this model that we've now got of centralised government in Brussels, remote from people [and] away from the voters, just isn't working.
"And I think even people like you [Daniel], who have believed in this project for 50 years, you know … it's time actually, not for Brexit to be rethought, but the whole European project."
Brexit vote part II
Former British Prime Minister Tony Blair says all is not doomed when it comes to Britain's exit from the European bloc. He believes there is scope for a Brexit vote Part II.
Blair says Theresa May's tenuous position in the House of Commons – having lost her majority – could leave her exposed.
"When she finally decides what her negotiating position is," Blair says, "I don't think there's a majority for either of the two propositions parliament is currently debating, and those two propositions are: stay close to Europe, in which case you abide by Europe's rules, in which case a lot of people say well why are we leaving; or a clean break from Europe, in which case there's big economic damage, in which case people say, well, what's the price?"
Blair says it's possible that Parliament could end up gridlocked.
And the only way to resolve this, he believes, would be to say to the British people: you took the original decision, we've had two years of negotiation, you now know what the options are, you've got to decide: do you really want to go ahead in these circumstances?