Rising sea levels threaten new parts of the Italian coast
Comments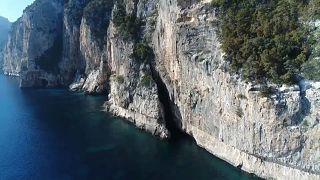 Italian researchers are warning that rising sea levels in the Mediterranean threaten seven new areas of the Italian coastline.
ENEA, the National Agency for New Technologies, Energy and Sustainable Economic Development, has developed a supercomputer that combines oceanographic, geological and geophysical data to give precise forecasts of rising sea levels.
And it's concerned by what the computer has come up with.
ENEA president Federico Testa said: "There are interesting illustrations, interesting models developed with the systems ENEA has. These are able to predict right down to specific areas where these changes will take place and what the consequences will be if we do nothing."
The agency says large parts of the coast could be inundated before the end of the century.
The seven new areas are in Pescara, Martinsicuro ( Teramo and the Tronto estuary), Fossacesia (Chieti), Lesina ( Foggia), Granelli ( Siracusa), Valledoria ( Sassari) and Marina di Campo on Elba island.
The new findings take the number of at-risk coastal areas in Italy to around 20.
Last year scientists warned that the Mediterranean could rise by up to 1.4 metres by the end of the century. In comparison, sea levels have risen by just 30 centimetres in the past 1000 years.