There are appeals of calm after a second night of violence in Nantes in France
Comments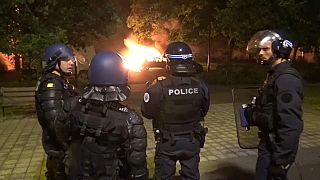 There are appeals of calm after a second night of violence in Nantes in France.
It's after police fatally shot a 22-year-old driver who was trying to avoid an identity check, triggering violence and unrest in several neighbourhoods on Tuesday.
Molotov cocktails were thrown by protesters shortly after the news broke and three vehicles were torched.
An investigation is underway as police open an internal probe looking at the officer's actions and his decision to use a firearm.
Last night they set more cars and buildings on fire.
The man had been under surveillance as part of a drug trafficking investigation.
Nantes Prosecutor, Pierre Sennes says, "The fact that this individual has been the subject since June 2017 of an arrest warrant issued by the Creteil court for organized robbery with a group of criminals, maybe this would explain the logic behind the driver's attempt to flee."
The latest incident added to what the Nantes prosecutor says was already a "climate of tension" in the neighborhood of Breil.