Colombia footballers receive death threats on social media after England loss
Comments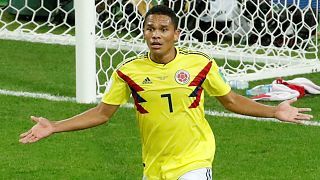 Copyright

REUTERS/Christian Hartmann
After Colombia were knocked out of the World Cup on Tuesday, two players who missed crucial penalties against England received death threats on social media.
Tweets containing menacing insults directed at Mateus Uribe and Carlos Bacca surfaced on the platform just moments after the penalty shootout.
"I hate you, Carlos Bacca, I hate all of you, I hate your indifference, your lack of definition, your animal name (Bacca resembles the word cow in spoken Spanish) and your clumsy play," one user wrote.
Bacca's penalty attempt was saved by England goalkeeper Jordan Pickford.
"Hopefully you die," wrote one person on Twitter, directed at Uribe, whose attempt hit the crossbar.
Further menaces included: "That was the last game for Mateus Uribe that man is already dead."
However, fans also defended the players. One wrote: "Don't wish death upon Bacca and Uribe. Do we intend to repeat the same thing that happened to Andrés Escobar? Is this Colombia?"
Andrés Escobar was a defender who played in the 1994 World Cup during which he scored an own goal against the United States and was later shot six times on the streets of Bogotá.
Many believed the reason for his killing, which occurred 10 days after the competition, was retaliation for the own goal he scored but fellow player Francisco Maturana has since said it was "nothing to do with sport".
Even during this year's competition, defender Carlos Sanchez saw online backlash and death threats after he was sent off in the third minute of play against Japan.
Police in Colombia have launched an investigation into the online threats against Sanchez.