Low visibility skills were the key to British divers success in finding missing Thai boys
Comments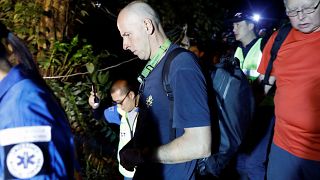 British divers were the first to find the 12 Thai boys and their football coach - currently trapped in the Tham Luang caves in northern Thailand.
They were volunteers from British Cave Rescue Council and on Good Morning Europe, the council's liaison officer gave details of the operation.
Chris Jewell explained that Rick Stanton and John Volanthen's specialist skills are in underwater navigation and route finding in low visibility. 
He said they have put in place a guideline rope that's enabled Thai navy seals to deliver supplies.