Canada strikes back at US steel and aluminium tariffs
Comments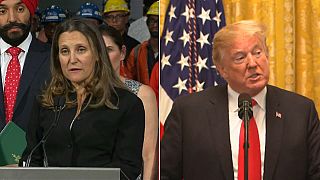 Canada's struck back at the Trump administration over American steel and aluminium tariffs.
It's announced over ten and a half billion euros worth ($12.63 billion) of retaliatory duties until Washington relents.
Some items will be subject to taxes of 10 or 25 percent.
Canadian Foreign Minister Chrystia Freeland says, "The idea that Canada might constitute a threat to American national security- the legal pretext invoked by our neighbours to impose these tariffs on Canadian steel and aluminium exports - is not only absurd, it's hurtful."
The Canadian tariffs will come into effect on Sunday (July 1) and will also target foodstuffs such as coffee, ketchup and whiskeys, ((as well as lawn mowers and playing cards.))
The announcement marks a new low in ties between the neighbours and trading partners since US President Donald Trump took power in January 2017.
One week ago, EU retaliatory tariffs on US goods came into force following US taxes on European steel.