Mexican football fans thank South Korea
Comments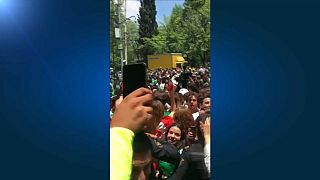 Hundreds of Mexican football fans partied outside the South Korean embassy in Mexico City on Wednesday after the Asian country defeated Germany two nil at the World Cup
The result ensured Mexico progressed to the last 16 despite losing three nil to Sweden.
Fans placed a sombrero on Sun Tae Park, the Counselor of the South Korean embassy.
Other videos showed fans singing and dancing while a Mariachi band played outside the building.
The South Korean ambassador to Mexico Kim Sang-il stood by the embassy doors as the celebrations raged on.