Chemical weapons watchdog wins right to blame
Comments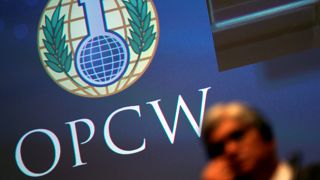 The world's chemical weapons watchdog has won new powers to assign responsibility for attacks despite protests by Russia.
In a special session member states of the OPCW voted in favour of a British-led proposal, easily reaching the two-thirds majority needed.
The result was a victory for Britain's Foreign Secretary, Boris Johnson.
"We have seen a recent spate of chemical weapons attacks in Syria in Salisbury and elsewhere," said Johnson, "the taboo against the use of these weapons is breaking down and today the OPCW has not just the power to say the chemical weapons have been used, but can also point the finger at whoever did it."
There was dissent, however, from Russia's ambassador to the Netherlands and the OPCW, Alexander Shulgin:
"In our view, there is no other international body, except the (UN) Security Council, which should solve these issues - the imposition of responsibility, the issues of war and peace in general, the establishment of sanctions and so on."
Although the use of chemical weapons is illegal under international law, their deployment has been increasing. There have been numerous attacks in Syria, as well as incidents in Iraq and Malaysia.