Bank of England rejects EU's warnings
Comments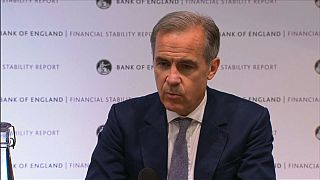 Britain's banks could deal with a hard Brexit next March if necessary.
That's according to the Bank of England's Governor.
Mark Carney rejects the European Union's warnings that lenders are inadequately prepared.
Carney says the UK banking system could support the real economy through a disorderly Brexit.
Bank of England Governor, Mark Carney says, "We have found with the government what we view as a rock solid UK based solution to the UK side of the issue. There may be many different solutions on the EU side of the issue."
CMC Markets Analyst, Michael Hewson says, "Unfortunately, I think the government has yet to arrive at a policy that it is currently agreed on. And I think the concerns that I think most people have is that the government is still debating with itself as to what its Brexit policy is likely to be. Hopefully we'll get some clarity on that."
The Bank of England's Financial Policy Committee (FPC) says banks in Britain are holding enough capital and will not need any more to face any turbulence in markets if Britain leaves the EU without a deal.