Harley-Davidson hit by EU tariffs
Comments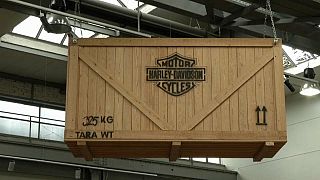 US motorcycle manufacturer Harley Davidson is already taking a hit in the trade spat between President Donald Trump and the European Union.
The company is beginning to shift some production of its vehicles for the European market out of the US.
This is in order to avoid retaliatory tariffs imposed by the EU in response to Trump's import tax hike on steel and aluminium imports.
The tariffs are being implemented by the EU on $3.2 billion worth of American good, ranging from motorboats to orange juice, peanut butter to denim.
For motorcycles the EU is raising its 6 percent tariff to 31 percent, making each bike around $2,200 more expensive to export.